Friday's Succulent Bowl Workshop was a great turnout, thanks to everyone who attended.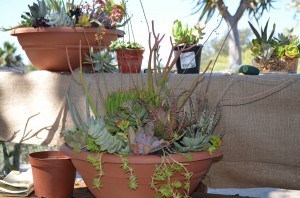 Thank you Debbie and Berta for inspiring me to move forward and put the workshop together.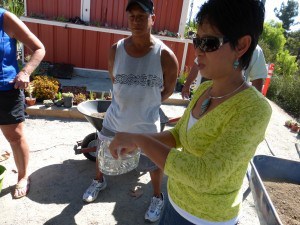 Special thanks to Sue for showing the class the 3 basics to designing a succulent bowl which are to use: "Thriller, Spiller & Filler"; The thriller is the focal point which can be a large or colorful plant, spiller is the medium size plant material surrounding the larger plant and spilling over the edge of the bowl and the filler is the small plants that'll be surrounding the sides of the container more or less filling in the gaps.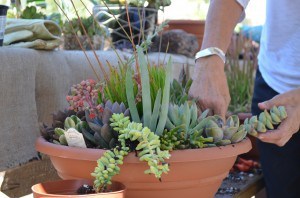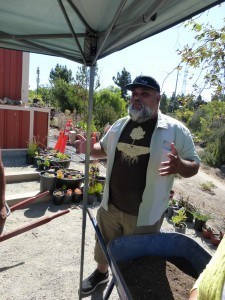 Sue said that chop sticks are good for poking small holes for the stems and for tucking small bits of succulent into the arrangement.
Manolo, of Terra Bella Nursery in Chula Vista, explained that the potting soil should include some perlite to lighten the mixture and  help with drainage.  He recommended watering the bowls about twice a week till the roots get established and then once every 10 days after that.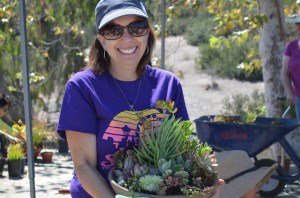 All the participants were able to create beautiful bowls full of many different types of succulents. Angie, a Chula Vista Girl Scout leader, said "I think it's a project that the girls in my troop would love to try! We're working on the "It's Your Planet" Girl Scout Journey and learning about waterwise gardening would fit in perfectly."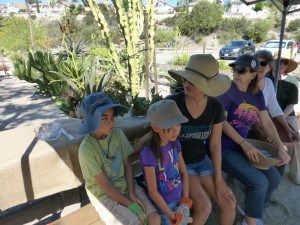 Two children came to the workshop and they each worked on creating an arrangement. They enjoyed all the interesting shapes and colors of the plants.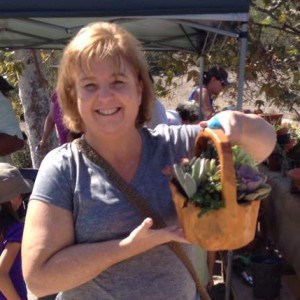 Becky, another participant, talked about arranging succulent bowls for her daughter's wedding next fall.
Sue had one arrangement that included some fresh blossoms that was really pretty.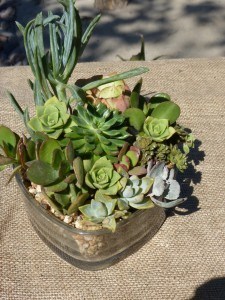 Participants used some interesting containers including a glass heart shaped dish and a "strawberry jar".
Elizabeth filled an old tea pot with potting soil and then planted it with succulents. "I'm going to put it in my kitchen" she said.
Teri said that she was going to put her new container garden on her balcony.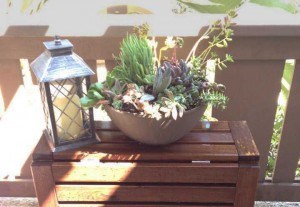 Berta said she loved the spikes of red flowers in the succulents in her bowl.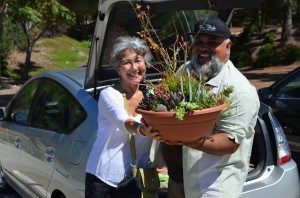 Finally, a big and special thank you to Manolo of Terra Bella Nursery who brought all the beautiful plants to share with the workshop participants!  Terra Bella Nursery is at 302 Hollister Street,  on the west side of Chula Vista,  just south of Main Street by Route 5. They carry a beautiful selection of succulents and other drought tolerant plants that are perfect for our Southern California landscapes.
Contact Manolo at (619) 585-1118